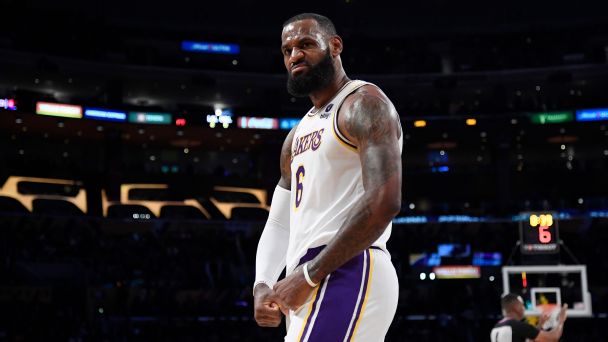 LeBron James' quest to break the all-time scoring record, currently held by Kareem Abdul-Jabbar (38,387 points) has been the hottest storyline as of late.
With James just 63 points away from the No.1 spot, fans are eager to see the 38-year-old star attempt to break the 38-year-old record in person.
Unsurprisingly, ticket prices for the Los Angeles Lakers games at Cypto.com Arena where he has a chance to accomplish the feat have skyrocketed.
Based on his career scoring average of 27.2 points and his scoring average this season of 30.1 points, he is projected to pass Abdul-Jabbar on Feb. 9 against the Milwaukee Bucks.
According to Vivid Seats, prices have increased 241% from where they were on Oct. 18, with the average ticket rising from $474 to $1,614.
But that isn't the only game affected, as some fans are banking on James to get the job done ahead of schedule. The Lakers' Feb. 7 meeting with the Oklahoma City Thunder saw a 389% surge, as the average cost increased from $235 to $1,150.
According to the Lakers' website and Ticketmaster, the lowest get-in price (price + fees) for one verified resell ticket to the Thunder game is $423.50. For the game against the Bucks, it's $756.25.
Should James undergo a scoring slump, his next shot at the record would be on the road against the Golden State Warriors, but those fell from $984 to $923, which is a -6% decrease.