Despite not quite having the advantage they enjoyed at Spa-Francorchamps at similarly highspeed Monza, Red Bull's World Champion Max Verstappen has no worries about pace-setting Ferrari after practice day for the 2022 Italian Grand Prix
Verstappen was the second fastest and teammate Sergio Perez sixth, half a second the gap between the pair in FP2. But even if he puts it on pole the runaway 2022 F1 Championship leader, will drop positions due to PU-related grid penalties.
But that should not deter the Dutch ace who famously won from 10th (Hungary) and 14th (Belgium) in recent races and, on Sunday at Monza, is hunting a fifth consecutive victory in a row to take his tally up to eleven wins this season.
Verstappen summed up his Friday at Monza in the Red Bull report: "I think the car was pretty good today, we've been trying a few different things from FP1 to FP2. Some things worked and some didn't, if you look at the long runs we look good and of course that's most important for the race.
"We did more long run practice knowing that we have the five place grid penalty on Sunday, everything seemed to work out quite well. There are still a few things that we can do better, but I think we should stand a good chance.
As for the Reds performing strongly on home soil, desperate for a victory and at home even better, Verstappen said: "The Ferraris look good, I'm not worried about them but we still have a few things to finalise."
Perez: I think the main thing will be the race pace
In the sister car, Perez was typically unable to switch it on like Max; nevertheless, the Mexican was able to reduce the eight-tenths of a second deficit to his teammate in FP1 to half a second by the end of FP2.
Perez said in the team report: "We have been playing around with the set-up, exploring different directions, so I think all in all we have pretty good information going forward. We used different downforce levels as well, so we have plenty of data for us to review tonight which is quite promising.
"We managed to complete a very solid programme today and we are fairly comparable to Max's car, there are just a couple of differences. I think the main thing will be the race pace and how the tyres last around this track will also be key for the race.
"I am looking forward to Saturday but mainly Sunday, overtaking will be hard but I think the degradation looks promising," added Perez, who lies joint second with Charles Leclerc in the drivers' standings after 15 Rounds, 109 points behind leader Verstappen.
Horner: We're taking this penalty at Monza on the advice of our engine partner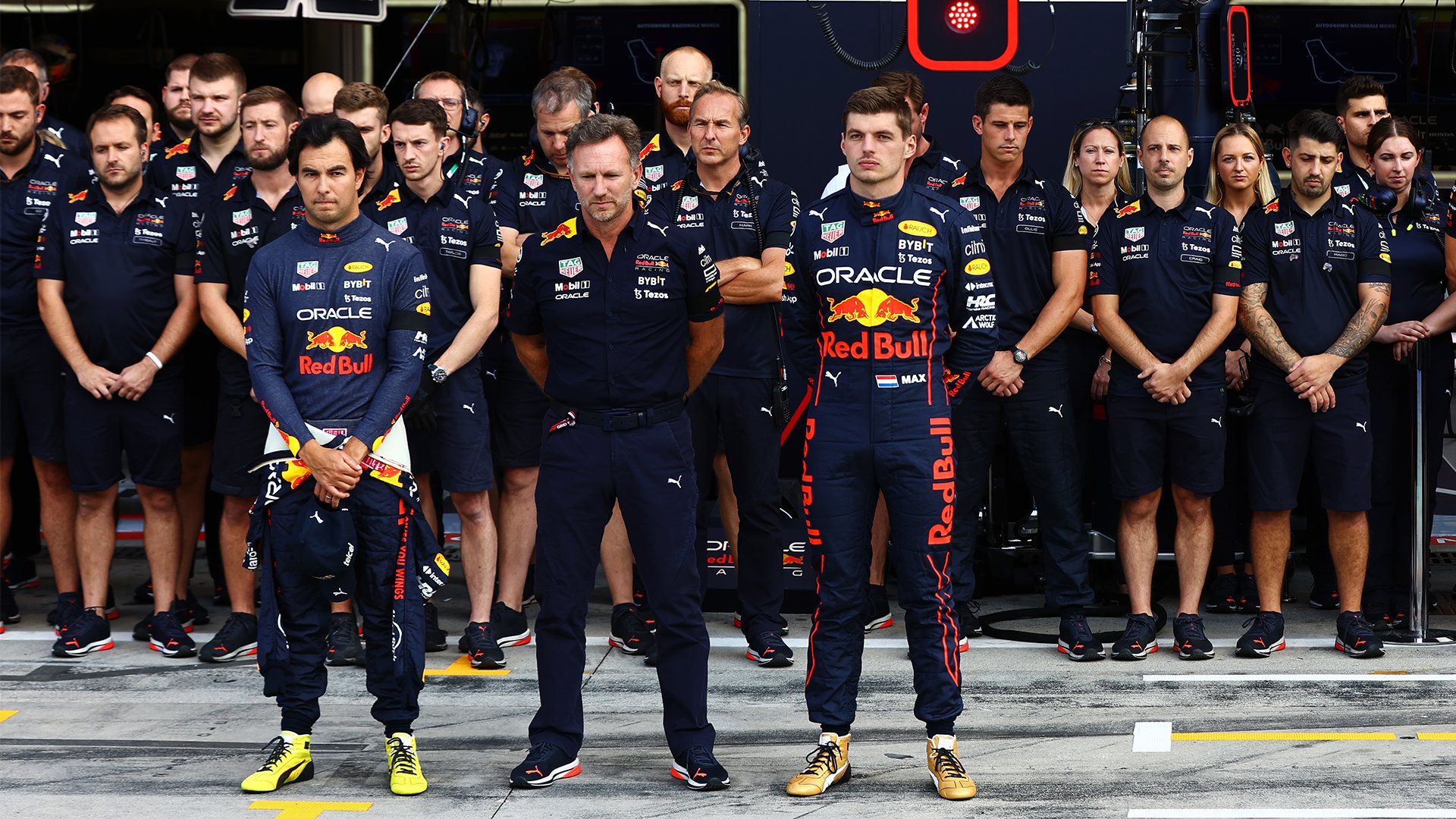 With three of the top six cars – Hamilton, Verstappen and Sainz – dropping down the order due to engine penalties, Perez – who scored his one and only pole in Jeddah this year – will be looking to fly the Red Bull flag against Leclerc and Mercedes driver George Russell, and make it pole number two.
Horner explained the reasoning behind Verstappen's engine swap:  "We've elected to take this penalty here on the advice of our engine partner [Honda] and five places here isn't too draconian, so to have that extra engine added into our pool for the remaining seven races, we just thought strategically it's the right thing to be doing."
As for Friday at the Temple of Speed, Horner said: "We've had a reasonable day. Everybody's very quietly gone about their job. Obviously, we've tested the different tyres, and different downforce levels. Max found a balance he's pretty happy with; I think Checo's getting closer and closer to that now.
"So, lots to look at this evening. We've obviously got penalties to take with both cars, which is going to put us a bit out of sync, but it's going to create a really exciting race on Sunday," added Horner, whose team is heading for their first F1 constructors' title since 2013, during the Sebastian Vettel heyday with Red Bull.