If Charles Leclerc wins the 2022 Italian Grand Prix, expect a giant party at Monza this afternoon but they best beware of Max Verstappen and Red Bull gatecrashing the possible festivities.
[Note: This preview will make way for the race report after the 73rd Italian Grand Prix today. Please refreshes this page. Thank you and enjoy the race.]
In what was one of the most convoluted grids – uncertain even a few hours before the race – in Formula 1 history, about half the field dropped down the order due to PU-related penalties; Verstappen among them will start from seventh after qualifying second.
But all eyes will be on Leclerc after his monster qualifying winning lap claimed pole, to the delight of the Tifosi who can dream of their Little Prince winning today, as he did famously in 2019 before the Scuderia's performance went AWOL until this year.
Their early season form turned into disappointment as a series of bad races, glaring team errors, reliability issues and driver mistakes conspired to just about end any hopes Ferrari might have had for F1 Titles this year, thus Monza is all so important, as the next best thing to a World Championship is victory on home soil.
It would soften the blow of a season that started so well but is slipping away from Ferrari. Victory today will blow a hole in the ozone over Autodromo Nationale di Monza, defeat could be negatively explosive especially if their team deliver another Laurel & Hardy show.
Imagine the fury if Charles, leading comfortably, pits with only three wheels prepped for his car, aka Sainz at Zandvoort. Etc, etc for the Scuderia…
No mistakes for Ferrari will be key to happiness or misery this afternoon at Monza
So at the front, it should be Leclerc versus Verstappen the Dutchman has won from 14th (Hungary) on the grid and tenth (Belgium) so lining up seventh will hardly deter the man who leads the 2022 F1 Drivers' Standings by a massive 109 points ahead of Round 16 at the Temple of Speed today.
George Russell, lining up on the front row will no doubt want to have a say on the matter, but the Mercs need to find a second at least to challenge the Ferraris and Red Bulls.
Last year's one-two team, McLaren own row two and will fancy their chances if there is bent metal ahead of them as there was last year when Ricciardo scored a famous victory for the Reds with Norris second. Improbable today, but as Murray Walker used to say: "In Formula 1, anything can happen?"
That said, Fernando Alonso has the Alpine in sixth alongside previous Monza winner Pierre Gasly in the AlphaTauri making for an interesting front of the pack.
Nyck De Vries who will become the 772nd driver to start a Grand Prix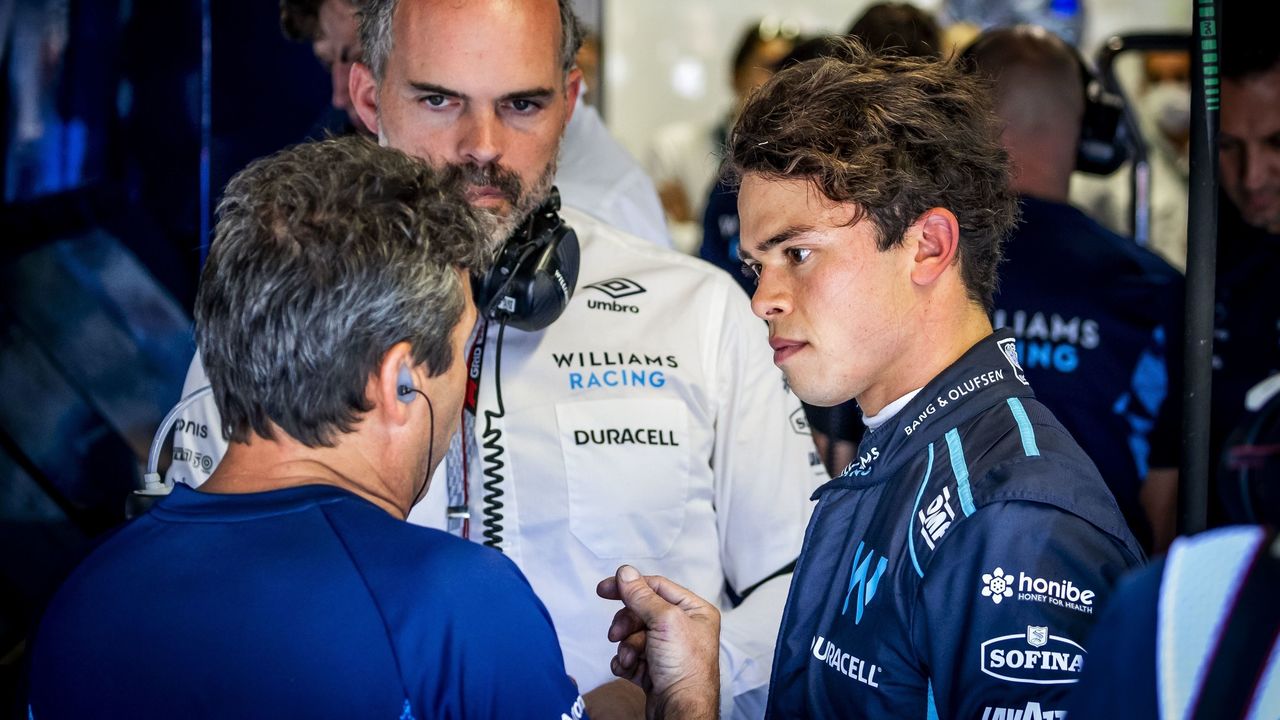 Subbing for hospitalised Alex Albon, Dutchman De Vries is making his much overdue F1 debut today, on Saturday, he showcased his immense abilities to all with a fantastic qualy performance. In a car he hardly knows, he out qualified regular pay-driver Nicholas Latifi.
De Vries – at 27 is the Mercedes F1 reserve with a distinguished racing record and is highly respected among his peers and pundits alike – made a great case to be on the F1 grid that can no longer be ignored.
On the other side of the coin, way out of place due to their respective engine penalties are Red Bull's Sergio Perez starting 13th, Carlos Sainz lining up his Ferrari from 18th and Lewis Hamilton, 19th on the grid in his Merc; the Briton a five-time winner at Monza.
How these three will fare from Nowehereland, through the midfield minefield will be interesting. It will be a hard graft-packed day for the trio.
Other sideshows to watch at the 2022 Italian Grand Prix today are:
Double points for Aston Martin or freefall for Seb and Lance?
Can Mick save his career with a great performance?
Watch Zhou…
First to crash: Tsunoda? Latifi? Magnussen? Schumacher? Hamilton? Vettel? Sainz? Perez?
2022 Italian Grand Prix Starting Grid:
Italian Grand Prix Facts & Stats
Venue: Monza
Round 16 of the 22 race championship 2022 F1 World Championship
Lap distance: 5.739km. Total distance: 306.720km (53 laps)
2021 pole position: Max Verstappen (Netherlands) Red Bull also winner of Saturday sprint race.
2021 race winner: Daniel Ricciardo (Australia) McLaren
Race lap record: One minute 21.046 seconds, Rubens Barrichello (Brazil), Ferrari 2004.
Start time: 1300GMT (1500 local)
The race will be the 72nd at Monza and 73rd Italian Grand Prix since the championship started in 1950.
Seven times world champion Lewis Hamilton and Ferrari great Michael Schumacher share the record of five wins each at Monza.
Other past Monza winners on the 2022 grid as well as Hamilton are Sebastian Vettel, Fernando Alonso, Charles Leclerc, Pierre Gasly and Ricciardo.
Hamilton has started on pole seven times at Monza.
The Italian and British Grands Prix are the only ones to have been on the calendar in every year since 1950. In 1980 the Italian round was held at Imola.
Hamilton's 2020 pole lap was at an average speed of 264.362 kph, the fastest in Formula One history.
Ferrari have won 19 times at Monza since the championship started, more than anyone else.

Race Victories
Red Bull have won 11 of 15 races this season and Ferrari the rest. Verstappen has won 10, equalling his tally from all of last season.
Ferrari's Leclerc and Carlos Sainz have three and one wins respectively, and Red Bull's Sergio Perez one.
Verstappen is chasing his fifth win in a row and 31st of his career.
The Dutch driver is eighth in the all-time winning lists, one behind Britain's 1992 champion Nigel Mansell.
Mercedes' Lewis Hamilton has a record 103 wins and 188 podiums from 303 starts. The seven-times world champion last won a race in Saudi Arabia in December and is now on the longest streak of his career without a win.
Ferrari have won 242 races since 1950. McLaren have 183 wins, Mercedes 124, Williams 115 and Red Bull 86.
Pole Position & Fastest Lap
Leclerc has had seven poles this year, Verstappen four, Sainz two, Perez and Russell one each.
Hamilton has a record 103 career poles, most recently in Saudi Arabia last year.
The Italian Grand Prix has been won from pole on 15 of the last 22 editions. The lowest winning start position to date was British driver Peter Gethin's 11th with BRM in 1971.
Six drivers have taken fastest laps this season.
Leclerc (3) took the bonus point in the first three races, Verstappen (5) in Imola, Miami, Austria, Belgium and the Netherlands.
Perez (2) was fastest in Spain and Azerbaijan, McLaren's Lando Norris (1) in Monaco, Ferrari's Carlos Sainz (2) in Canada and France and Hamilton (2) in Britain and Hungary.

2022 F1 World Championship Points
Verstappen leads Leclerc and Perez by 109 points, with the Ferrari driver ahead on race wins. Red Bull lead Ferrari by 135 points in the constructors' standings.
Williams' Nicholas Latifi is the only race driver yet to score this season.
Mercedes are the only team to have scored in every race.
Milestones
Monza's 'Temple of Speed' is celebrating its 100th anniversary.
Alpine's Fernando Alonso will equal Kimi Raikkonen's record of 349 Formula One starts.