Toto Wolff believes Lewis Hamilton might have taken pole position for the 2022 Dutch Grand Prix but a late yellow flag scuppered the Mercedes driver's chances of doing so but optimism for the race prevails.
Instead, of course, the top spot start goes to local hero Max Verstappen, whose Red Bull teammate, struggling Sergio Perez spun on his final Q3 run which messed it up for those behind him including Hamilton and teammate George Russell.
What might have been wasn't as Mercedes team boss Wolff had to accept: "It's very frustrating, we were a tenth up on Verstappen and Leclerc, so Lewis was on for pole. We were ahead.
"Obviously it's not the case in the end. "I think [Perez] pushed it a lot and lost it. It's not his fault. You lose the pole because of a yellow flag or you lose the pole because of a few hundredths by running first. It's always afterwards that you know better."
Wolff was referring to the fact that the Silver Arrows were last to roll out on to the track for the final Q3 shot, which always has the risk of a yellow flag sector messing things up as they did on Saturday for Mercedes drivers.
Wolff: We have a strong race car which has been in a good place all weekend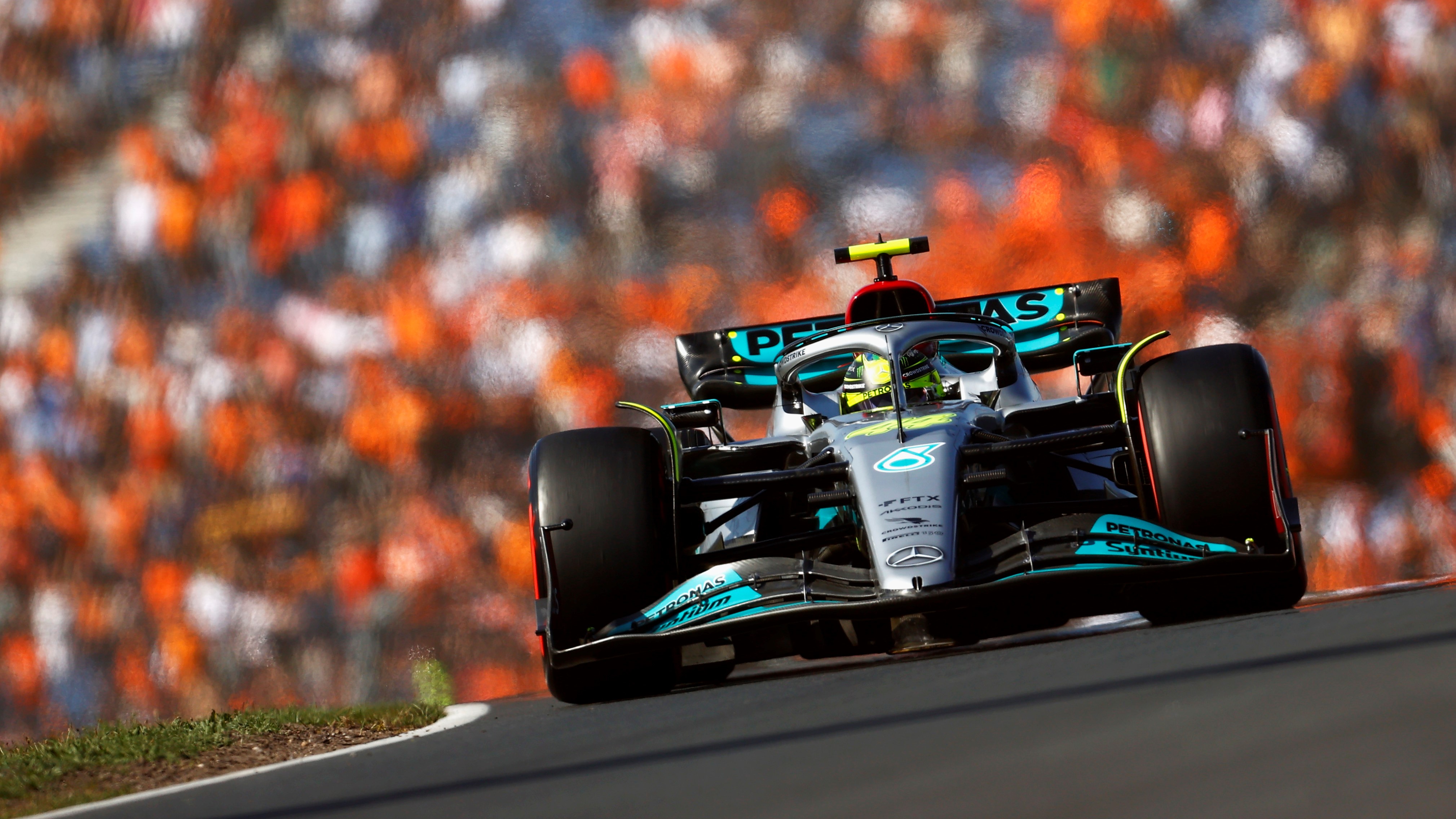 While pole went begging for Hamilton, he is set to line-up fourth on the grid ahead of Russell in sixth from where Wolff believes there are chances for his drivers: "We have a strong race car which has been in a good place all weekend and starting on the second row, anything is possible tomorrow.
"We developed a car which gains a lot of its downforce with a low ride height and sometimes you can't run low because you are hitting the ground. You're forced to take compromises in the setup which moves the car away from its sweet spot but here in Zandvoort, we're able to find that spot much more easily," added Wolff.
Trackside boss Andrew Shovlin is also confident the race could auger well for Mercedes: We did some race work this morning during final practice.
"Both drivers were encouraged by the way the car was handling and looking after its tyres, so that will hopefully bode well for tomorrow. It's also hard to know where everyone is going to go on strategy for tomorrow.
"There's wasn't a lot of long run data due to a number of red flags so it may be we see a range of strategies up and down the grid which could give us opportunity. We do normally race better than we qualify and if that proves to be the case, we should be able to make some good progress in the race," concluded Shovlin.
Mercedes have yet to win a Grand Prix this season, and are well out of contention in the drivers' title race, and lagging uncomfortably far behind in the constrictors' standings.
Victory in Holland on Sunday would go a long way to change the course of their season but, first, they need to overcome the feisty Ferrari duo and the rampant homeboy Verstappen looking to ignite the Orange Army with back-to-back wins on home soil.