As the headline says, a lone Red Bull driver is up against two Ferrari drivers and a couple of Mercedes chaps all adamant to win today's 2022 Dutch Grand Prix at Circuit Zandvoort.
[Note: This report will be updated at the end of the Dutch Grand Prix today. Refresh the page to stay updated. Enjoy!]
Amid the stupid flare throwers, unable to dent the joyous spirit of the Orange Army who descended on mass to the tiny seaside town of Zandvoort (population 17,000) to honour their hero Max Verstappen, racing on home soil for the first time as a Formula 1 World Champion.
And boy did he turn it on to give them a magnificent showing in qualifying, single-handedly – because Red Bull teammate Sergio Perez was absolutely nowhere as Max was on another planet again.
At the end of an enthralling qualifying session, it was indeed Verstappen who edged Charles Leclerc by a smidgeon of 0.021s with Carlos Sainz also within a whisker for the tightest qualifying in recent memory which we witnessed Saturday.
With Max on pole and Perez fifth, the two Ferrari's have the edge in terms of attacking the #1 car, but also in the mix and talking up a handy Mercedes in terms of race pace, Lewis Hamilton and George Russell will be watching with interest and chasing the trio up front.
Verstappen, of course, is the rampant Bull, on nine wins it would be hard to bet against him making it ten today, with his name chanted every lap, the energy alone is sure to make him invincible this afternoon.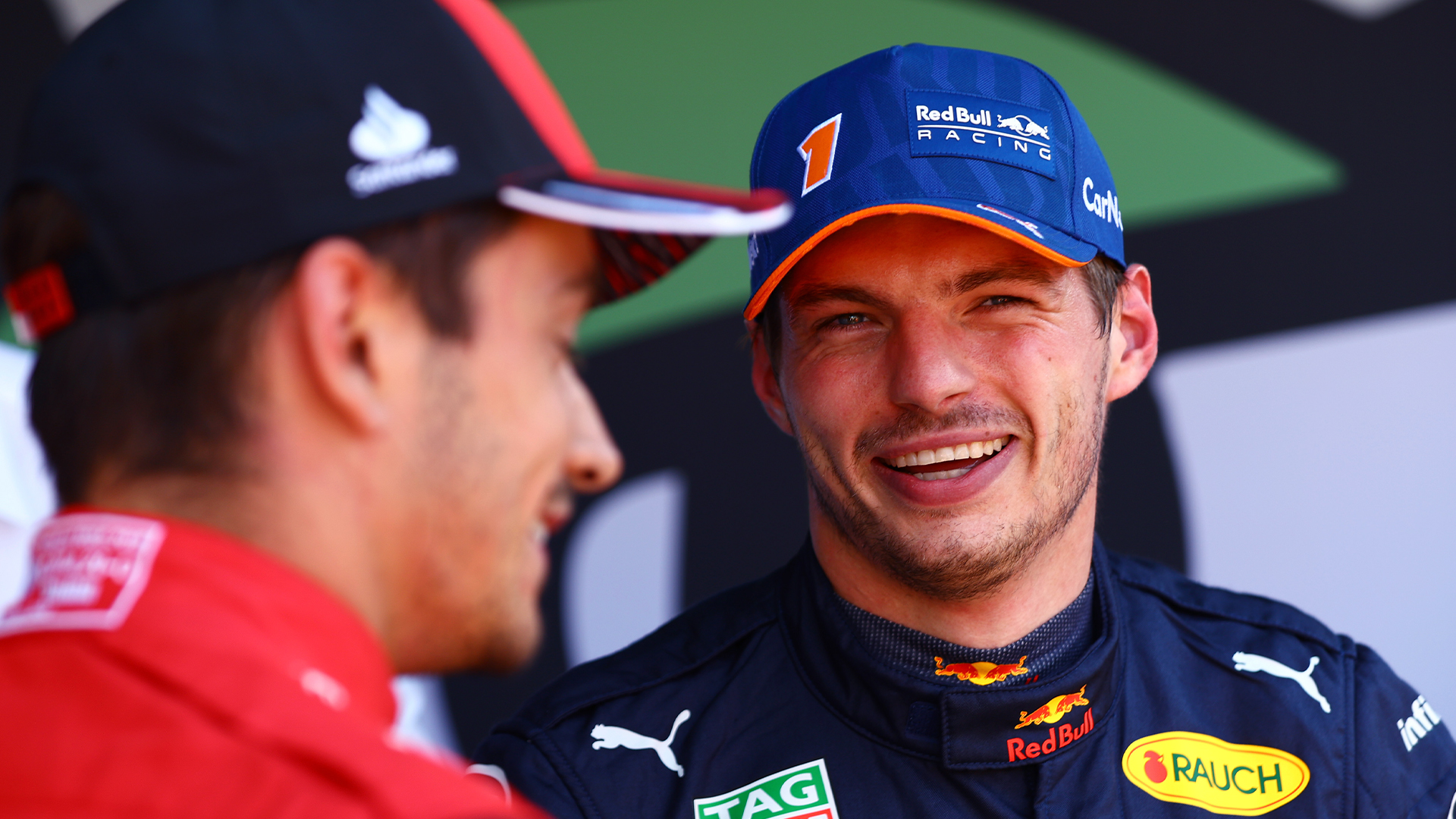 Verstappen won starting 10th (Budapest) and 14th (Spa) imagine from pole today?
Unless Lady Luck decides to be cruel in whatever way and level she wants to inflict pain; reliability is a factor as Friday's issues will have served as a warning to Red Bull and has them nervous until the chequered flag drops or the car goes poof.
But at the same time, it has to be said Max and Red Bull are at the very top of their game and apparently getting better and better. Slick teamwork, proper management on all levels and that genius Adrian Newey joining the dots, it's hard to bet against them.
Ferrari on the other hand, who knows what Game they will bring to the race today in Holland? If they play their cards right, they could pull a coup as they did in Austria, pooping the Red Bull party on their home track.
Here it is Verstappen-country, everything is Orange, thus no better place to paint the town Red at a race they HAVE to win to keep this Title race alive, doing it to Max at Zandy today would be the best way to remind him the Game is not over.
Leclerc and Sainz are both capable winners, but with Ferrari under duress, strategy has not been their forte, to put it mildly. Nevertheless an interesting afternoon of the Reds in action awaits us… as well as the post-race excuses.
Mercedes feel they have a strong race car for the Dutch Grand Prix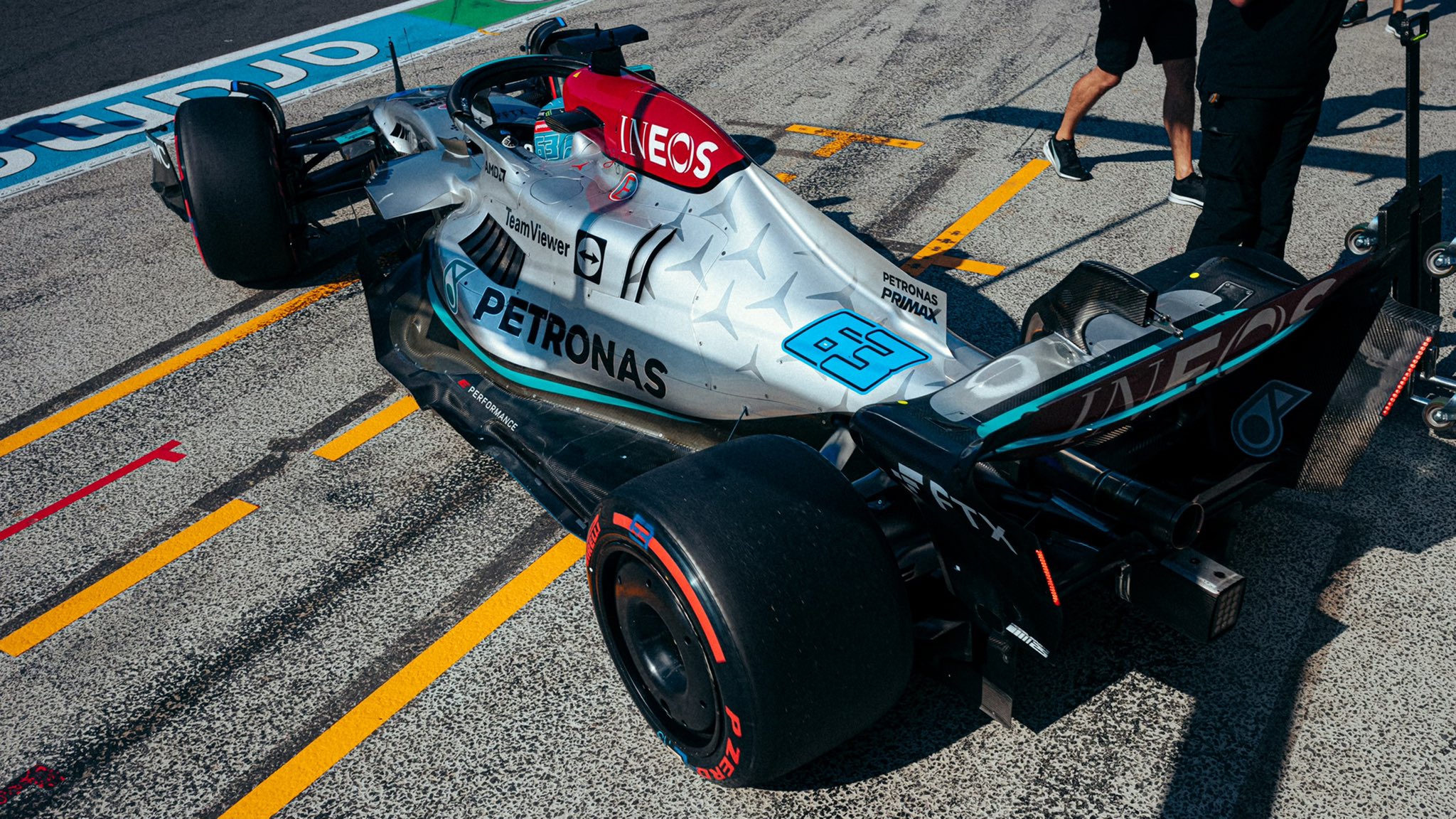 Behind the three pace-setters, Lewis Hamilton felt he had a shot at the front row until Perez's spin affected the laps of those behind him, which included both Mercs; hence the seven-time F1 World Champion will start fourth with teammate George Russell directly behind him in sixth.
Both drivers and their team have confidence in the race pace of their package, Hamilton believing the W13 will look after its tyres better than their rivals will do, which remains to be seen. But there is a more familiar air of confidence in the reigning World Champions' garage.
Behind the Big Three teams, Lando Norris was again the best and will fancy to poke his nose in among those ahead, but realistically he will be looking to finish Best of the Rest, which is highly possible as he is surrounded by drivers who may be higher up the grid than they expected.
Among them Mick Schumacher who did a sterling job under a cloud of an uncertain future. The German will line-up his Haas eighth on the grid, as is Yuki Tsunoda in the AlphaTauri who drove out of his socks on Saturday to out-qualify teammate Pierre Gasly who lines up 11th, both higher up than they expected.
And also in that mix, starting 10th is Lance Stroll who had one of his stronger showings in the Aston Martin. Not the usual suspects in those positions and all of them pretty explosive, which is going to make for an interesting Turn 1 and first lap.
SCH-TSU-GAS-STR is bent metal waiting to happen, just needs a detonator which all four are capable of triggering. Watch that start with interest.
Beyond that also worth keeping an eye on during the Dutch Grand Prix
A couple of Alpine boys in Fernando and Esteban starting in Nowhereland and not shy to flex their muscles;
Among their neighbours on the wrong end of the street is poor Daniel , the guy is being flayed mercilessly by the always-on-fire Lando, how much worse can the pain get for the Aussie?
K-Mag and Seb will be looking up the grid with binoculars to see their teammates slotting into top ten grid slots and will be plotting to make amends, both can be crash happy, which should be entertaining from where they are starting.
Keep an eye on Alex and Zhou. Both shone for their teams yesterday. What can they do today?
And finally, who will crash first? Answer: Throw a dart at that grid from ten paces, where it lands! In other words, anyone!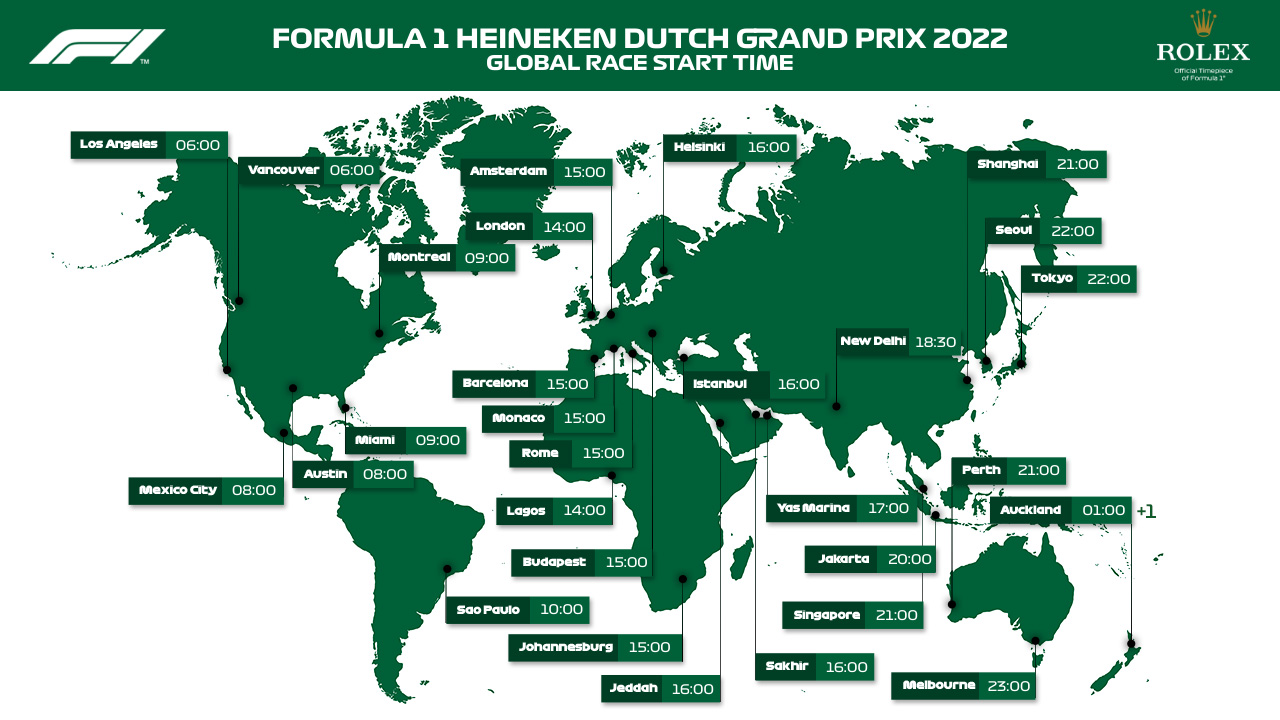 Dutch Grand Prix Facts & Stats
Circuit Zandvoort
Round 15 of the 22-race championship:
Lap distance: 4.259km. Total distance: 306.587km (72 laps)
2021 pole position: Max Verstappen (Netherlands) Red Bull one minute 08.885 seconds.
2021 race winner: Verstappen
Race lap record: Lewis Hamilton (Britain) Mercedes 1:11.097, 2021
Start time: 1300GMT (1500 local)
Last year's race was the first Dutch Grand Prix since 1985.
Zandvoort opened in 1948 in the coastal sand dunes and is often described as "old school" — a quick and flowing circuit with high-speed changes of direction and much of the lap spent cornering.
It is roughly a half-hour train journey from Amsterdam.
The last two banked corners have an angle steeper than the Indianapolis Motor Speedway. The 235 metre pit lane is the shortest of the season.
Race Victories
Red Bull have won 10 of 14 races this season and Ferrari the rest. Verstappen has won nine, Ferrari's Charles Leclerc and Carlos Sainz three and one respectively, and Red Bull's Sergio Perez one.
Verstappen is chasing his fourth win in a row and 10th of the season.
Mercedes' Hamilton has a record 103 wins and 188 podiums from 302 starts. The seven-times world champion last won a race in Saudi Arabia in December and is now on the longest streak of his career without a win.
Ferrari have won 242 races since 1950. McLaren have 183 wins, Mercedes 124, Williams 115 and Red Bull 85.

Pole Position & Fastest Lap
Leclerc has had seven poles this year, Verstappen three, Sainz two, Perez and Russell one each.
Hamilton has a record 103 career poles, most recently in Saudi Arabia last year.
Six drivers have taken fastest laps this season.
Leclerc took the bonus point in the first three races, Verstappen in Imola, Miami, Austria and Belgium, Perez in Spain and Azerbaijan, McLaren's Lando Norris in Monaco, Ferrari's Carlos Sainz in Canada and France and Hamilton in Britain and Hungary.
2022 Formula 1 Championship Points
Verstappen leads Perez by 93 points. Red Bull lead Ferrari by 118 points in the constructors' standings.
Williams' Nicholas Latifi is the only race driver yet to score this season.
Mercedes are the only team to have scored in every race.
Milestones
Belgium was Red Bull's 150th front-row start.
Verstappen's win in Belgium made him only the second driver, after the late Bruce McLaren, to win successive races from 10th or lower on the grid. He started 10th in Hungary and 14th in Belgium.
Spa was Red Bull's lowest ever winning grid position.
Hamilton's first-lap retirement in Spa was only the fifth time that had happened to the seven times world champion in his F1 career but the third time at the Belgian circuit.