Carlos Sainz finds himself in a winning car for the first time in his Formula 1 career and with it, he intends to win this Sunday's Spanish Grand Prix, because there is no better place to score a maiden victory than at home.
With 146 Grand Prix starts to his name, Sainz has yet to win a Grand Prix; compare that to his first F1 teammate at Toro Rosso, Max Verstappen who in his 149 F1 starts with 23 victories and an F1 world titles on his CV.
This year Verstappen is the man to beat, while Sainz's teammate Charles Leclerc is the driver leading the Championship after six rounds, but this will not distract the Spaniard from his ambition of winning at home.
He will fancy his chances because this is well-known territory for all the drivers, which Sainz acknowledged in the Ferrari preview of Barcelona: "The goal, as in every race weekend, is to extract the maximum out of our car and try to win the Grand Prix.
"The fact that it's my home race makes it even more special because of all the fans and the support we get there, but in terms of goals, we need to always push and fight for the best result possible."
The problem Sainz has had is the maximum he extracts from the Ferrari F1-75 is not as much as Leclerc can wrench out of it, hence Carlos sometimes has to drive beyond himself as the too many prangs testify.
Sainz did well to reverse the Imola DNF and FP2 crash into third in Miami
After crashing during FP2 on Friday in Miami he recovered well to finish on the podium. But after Ferrari locked out the front row, some say Sainz did not do enough to help pole winner Leclerc fend off Verstappen at the start of the race.
However, considering the circumstances of the Spaniard's season, he did well to heed to his own advice and not risk damage or another unthinkable no finish.
Nevertheless, Sainz arrives at home with the spotlight firmly on his team, as it always is with Ferrari, which coupled to local expectations and hype is a stress he probably could do without but at least it won't be behind COVID-induced closed doors.
Sainz, who has a grandstand named after him, mentioned the fact: "After two years with little or no fans at the track I'm very happy that this year the circuit is completely sold out. Being able to have 'Grada CS55' again is also very important for me, as it has become a great tradition and it allows me to interact a bit closer with my fans."
Home fans will be out in force to support Sainz and their other local hero Alonso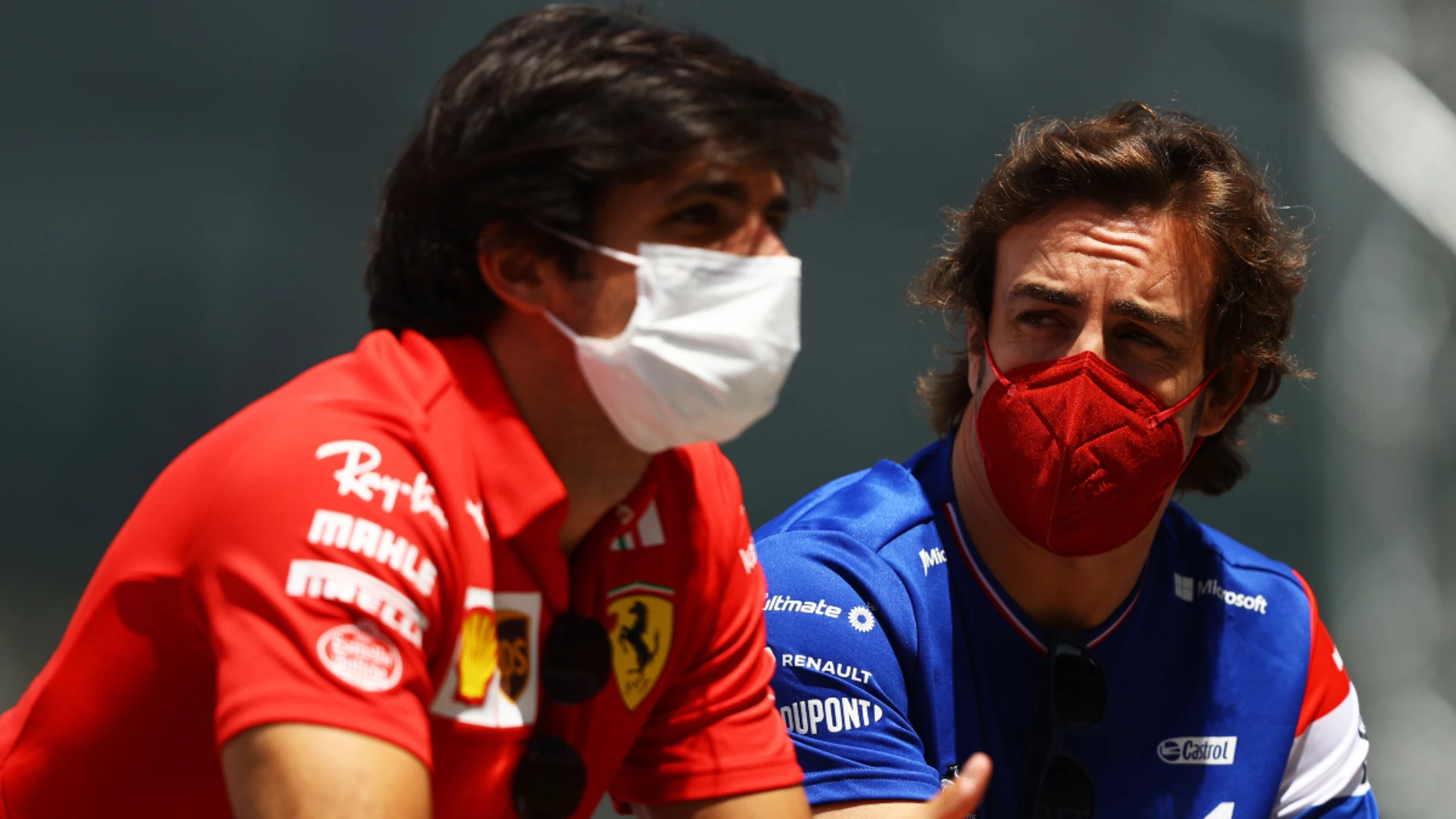 Sainz continued: "I know we will receive massive support from every grandstand at the track and I can guarantee the fans maximum effort from myself and from the entire team, to give them plenty to cheer about!
"Hopefully we can have a great racing weekend in Spain and everyone can enjoy the thrills of an F1 race!" added Sainz, who lies fifth in the 2022 F1 world championship drivers' standings on 53 points; Leclerc leads on 104 ahead of Round 7 this weekend.
With Sainz harbouring victory ambitions, interesting times lie ahead at Maranello should the Spaniard manage to up his game and start matching Leclerc, which on familiar turf he might do.
What does Mattia Binotto say on Sunday should Ferrari be running one-two with Carlos leading Charles with half a dozen laps to go? Does he allow Sainz to win his first race on home soil, or order a swap so Leclerc can claim maximum points?
Ferrari have never been shy to manipulate their drivers, within the rules mostly, so their 'unofficial number one' driver, Leclerc in this case, gets the bigger slice of the pie when needed. Interesting times lie ahead between the pair. Watch this space!
To our Spanish #Tifosi…

Your support for @CarlosSainz55 and @ScuderiaFerrari has been INCREDIBLE. We can't wait to see more of it this weekend 👏🇪🇸#essereFerrari 🔴 #SpanishGP pic.twitter.com/DzLPprqJx3

— Scuderia Ferrari (@ScuderiaFerrari) May 16, 2022