Charles Leclerc and Max Verstappen start the 2022 Spanish Grand Prix from the front row, the Formula 1 gods deciding they want hot action this Sunday pitting the two best drivers of the current era against one another, from the front.
Does it get any better for F1 fans? And it's very close, Ferrari might've had a slight edge in qualifying but Leclerc admitted he was nervous about the race pace relative to Red Bull, but did say the long-distance car was better in FP3 than it was on Friday.
In contrast, Verstappen's DRS did not play ball when it mattered in Q3's final run but his first effort was still good enough for second on the grid. He was not too aggrieved because he knows he has a handy race car in the RB18, but reliability seems to be a niggle. Two DNFs, this DRS thing…
However, the reigning World Champion has momentum on his side, while his rival in Red has the 19-point-cushion on his side, setting the stage for an intriguing afternoon at Circuit de Barcelona-Catalunya.
If anything, Saturday showed that Carlos Sainz simply does not have the pace of his teammate and his desire to take his first win in F1, on home soil, suggests the Spaniard is in denial that Leclerc's cause is more important than his for the Scuderia.
Ferrari boss Mattia Binotto will have a tough call to make should, with ten laps to go in today's Spanish Grand Prix, Sainz is leading with ten laps to go, having Leclerc under his wing and Verstappen stalking the pair.
Will Carlos get the dreaded "Charles is faster than you" call from the pitwall?
Likewise, Sergio Perez in the other Red Bull was thoroughly outclassed by Verstappen on Saturday. The Mexican's weekend was compromised by having to miss FP1 as per mandatory rules forcing teams to run a reserve driver in two FP sessions. He will start from fifth and for sure is capable of a podium.
But he will have to fend off a resurgent Mercedes team whose George Russell will line-up fourth and Hamilton sixth, sandwiching Perez on the grid.
The Mercedes W13 was the most improved of all the cars that were updated for Barcelona, while still lacking a couple tenths to the pace-setters, both drivers reported huge improvements to the drivability of the car thanks to a solution to curtail the "porpoising" that haunted the earlier version of the car.
Could the Silver Arrows spring a surprise? There is quiet optimism oozing from the garage that suggests they may have a strong race package for George and Lewis today, a podium is not out of the question should the W13 indeed deliver on expectations. Watch this space!
Other sideshows to keep an eye on today:
Valtteri! What is he doing up there? Let's see what he can do. Podium?
Haas are on a high, two cars in Q3 and lining up with K-Mag in eighth and Mick ninth. Michael's kid is getting a pounding and really needs to do to Kevin what Yuki is doing to Pierre at AlphaTauri. Mick has work to do to start convincing he is indeed in the Leclerc-Verstappen league. Anything less, why bother with so much talent waiting for an F1 break. Today, big points could be on the table for the minnows.
McLaren, Aston Martin, Williams, Alpine! Face-palm. All that money spent on much-vaunted upgrades and they all go backwards relative to Haas who proudly arrived in Barcelona with no mods to their VF22 and proceeded to thump the big spenders. In other words, a great deal of money (unimaginable amounts) was spent by teams on bits and pieces that will be binned because they were simply: crap;
After spending massive amounts to copy the Red Bull RB18, to the point that the car was dubbed Green Bull when it broke cover, Aston Martin will be wincing at the garbage they concocted at the factory by Dan Fallows and his team. How much worse can Aston Martin get?
Fernando. Always watch Fernando. Alas, these days for all the wrong reasons. What does he have in store for us today?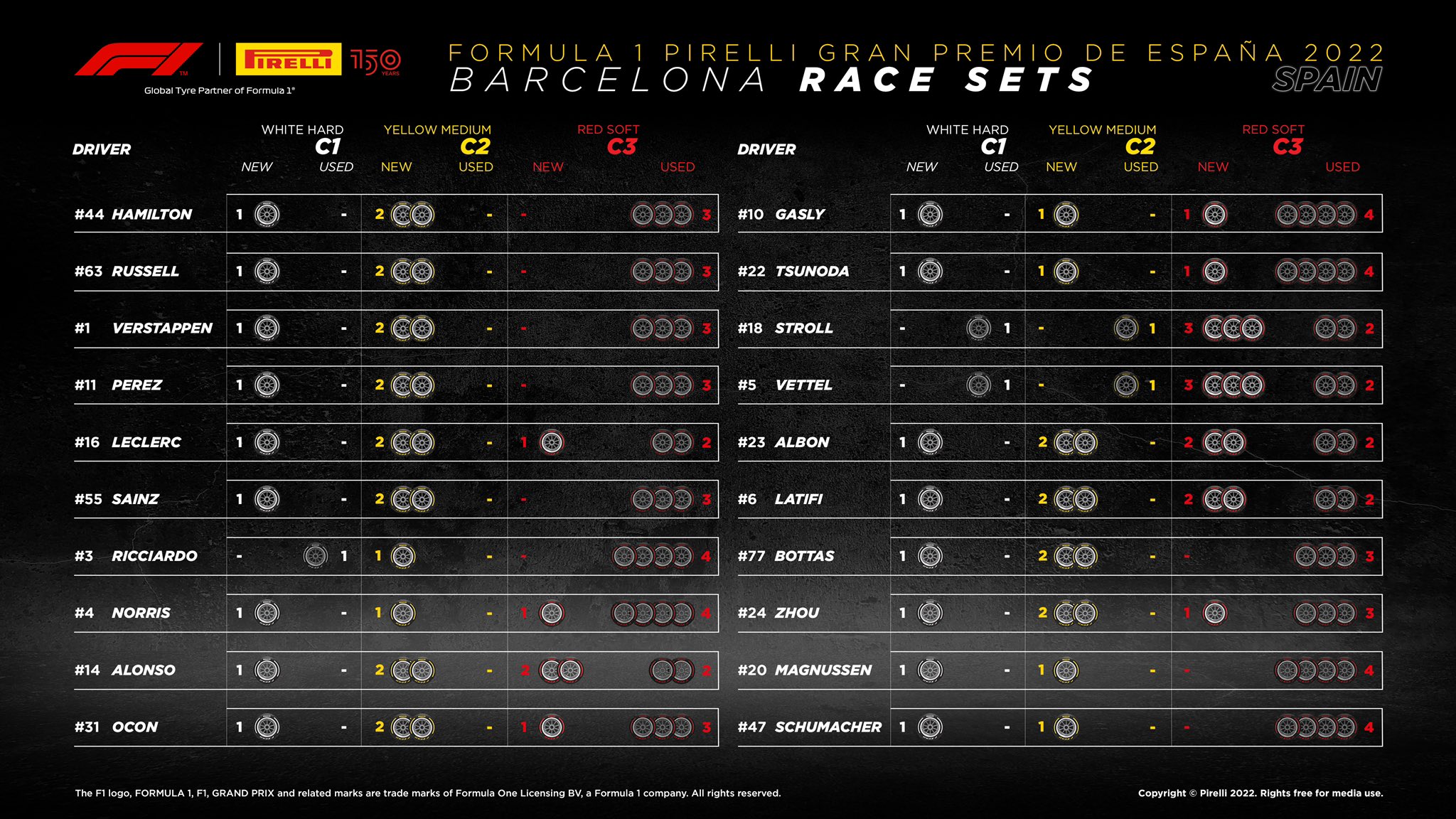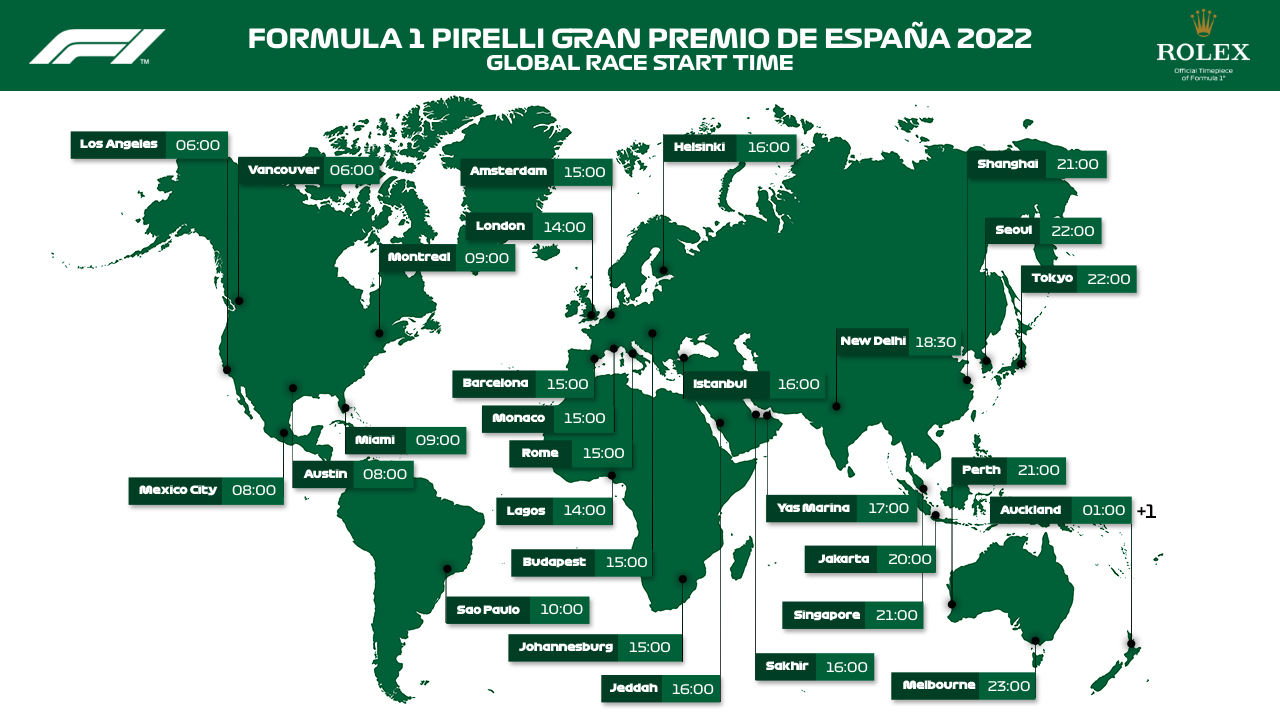 Spanish Grand Prix Facts & Statistics by Reuters
Venue: Barcelona's Circuit de Catalunya
Round six of the 22-race season 2022 Fo9rmula 1 World Championship
Lap distance: 4.675 km. Total distance: 308.424 km (66 laps)
2021 pole position: Lewis Hamilton (Britain) Mercedes
2021 race winner: Hamilton
Start time: 1300 GMT (1500 local)
The Circuit de Catalunya is celebrating its 32nd year as host of what will be the 52nd world championship Spanish Grand Prix.
Hamilton has won the Spanish Grand Prix six times (2014, 2017, 2018, 2019, 2020, 2021), a record he shares with Michael Schumacher, but a sixth in a row for the seven times world champion looks unlikely.
Other past winners are Sebastian Vettel (2011), Fernando Alonso (2006, 2013) and Max Verstappen (2016).
Verstappen is one of four drivers to have taken his first F1 win in Spain.
The winner at the Circuit de Catalunya has started on pole 23 times in 31 races.
The only drivers to win in Barcelona and not start on the front row were Schumacher (third on the grid in 1996), Alonso (from fifth in 2013) and Verstappen (fourth in 2016).
Alonso and Ferrari's Carlos Sainz are Spain's current drivers.
Ferrari are the most successful team at the Circuit de Catalunya with eight wins. Since 1951, the Italian team have won 12 times in Spain.
Race Victories
Hamilton has a record 103 wins from 293 starts. He has yet to win this year, however, and his most recent was in Saudi Arabia last December.
Verstappen has won 23 races, Leclerc four.
Ferrari have won 240 races since 1950, McLaren 183, Mercedes 124, Williams 115 and Red Bull 78.
Verstappen has won three of five races this season, Leclerc the other two.
Pole Position
Hamilton has a record 103 career poles, most recently qualifying fastest in Saudi Arabia last year.
Leclerc has been on pole three times this year, with Red Bull's Sergio Perez and Verstappen taking the other two.
Hamilton has been on pole six times in Spain, with Schumacher holding the record of seven.
Fastest Lap
Leclerc took the fastest lap bonus point in the first three races, Verstappen in the latest two (Imola and Miami).
2022 F1 Championship Points ahead of Spanish Grand Prix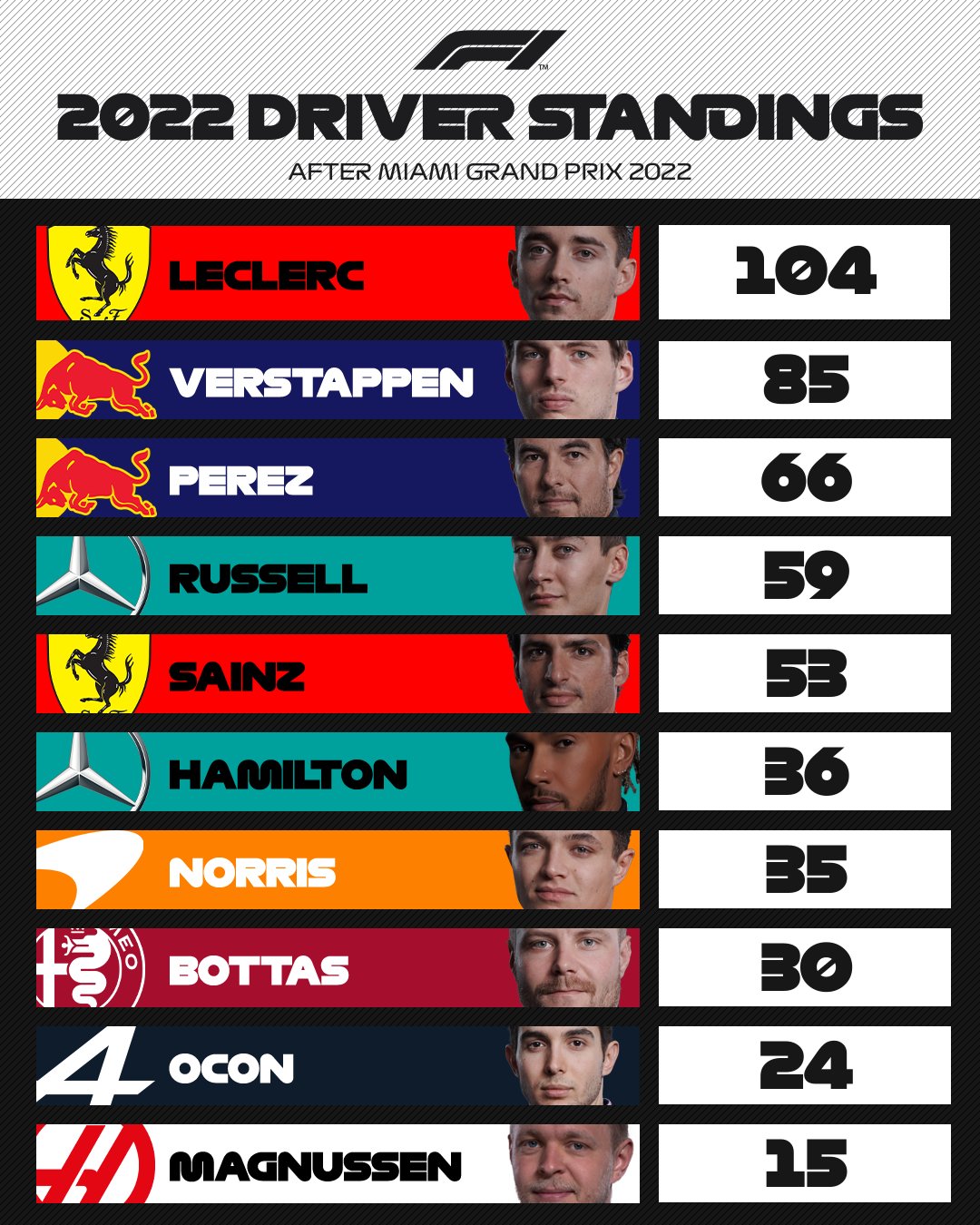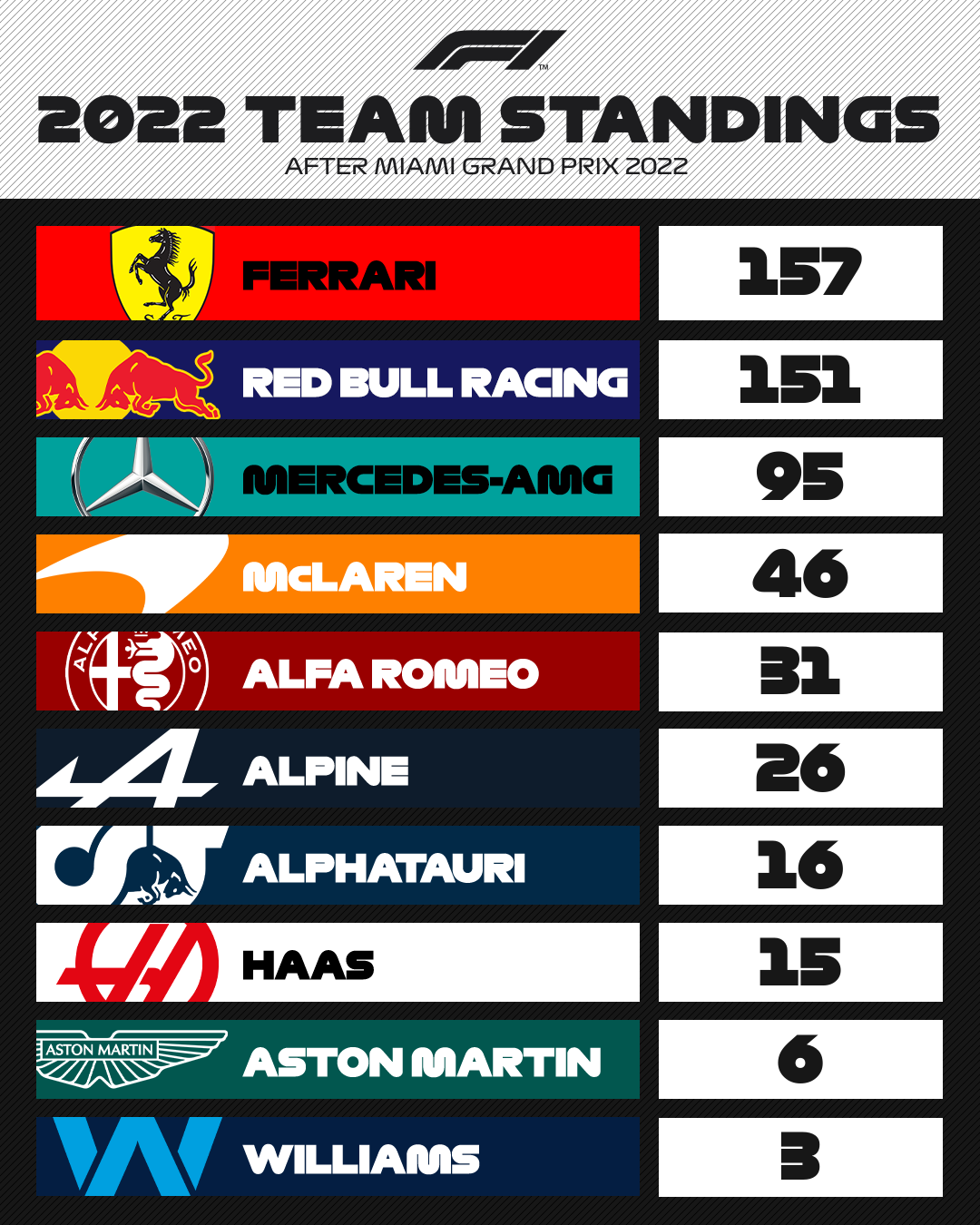 This report will be replaced by the Race Report after the race. Please refresh this page for latest version.