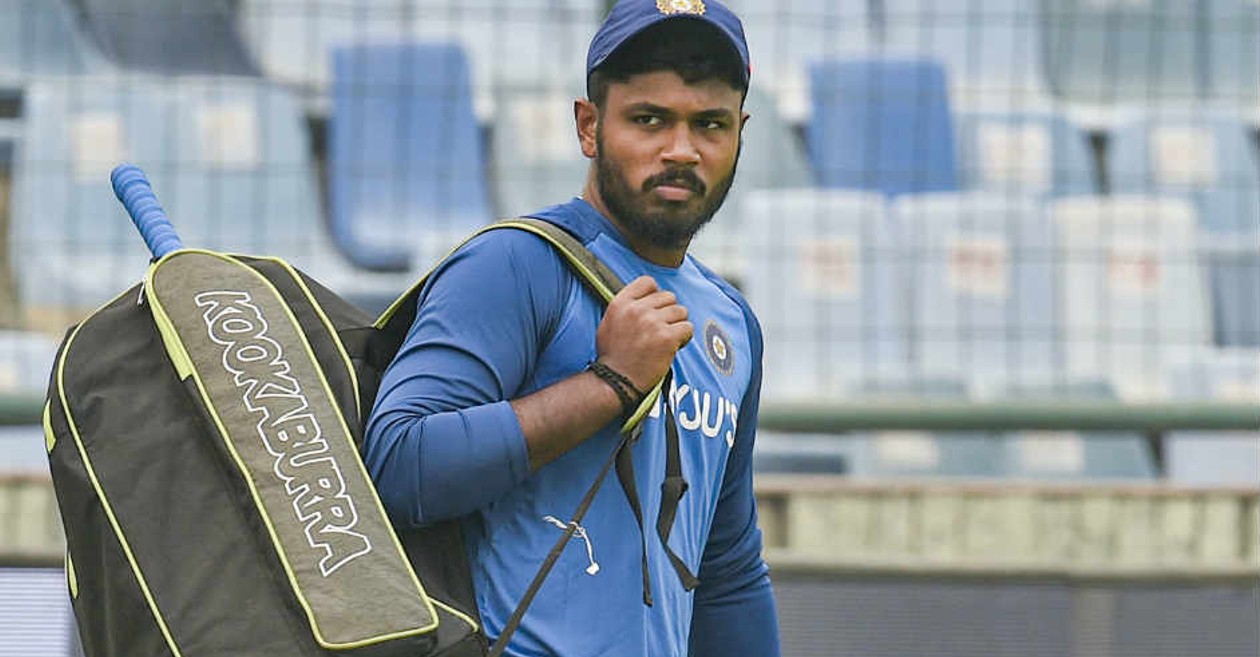 The Board of Control for Cricket in India (BCCI), on Thursday, announced the 18-member squad for the upcoming T20I series against West Indies. While senior members like Virat Kohli, Jasprit Bumrah and Yuzvendra Chahal were rested, spinner Ravichandran Ashwin has made his comeback in the shortest format.
The likes of KL Rahul and Kuldeep Yadav, who had been sidelined by injuries and have been on the road to recovery, are named in the outfit but with subject to a fitness clearance. However, the selection of the T20I squad met controversy as several fans on social media slammed the BCCI for not picking wicketkeeper-batter Sanju Samson.
Notably, Samson, who has been in and out of the Indian white-ball teams throughout his career, was recalled to the squad for the T20Is against Ireland in June. The Kerala cricketer got his chance in the second T20I and justified his selection by scoring a tremendous 77 (42) as he formed a record-breaking partnership with centurion Deepak Hooda.
The decision to drop Samson left the fans very upset as they expressed their anger on social media platforms. Even former India cricketer Dodda Ganesh was among those who didn't understand the logic behind the decision. He took to Twitter and wrote: "Ideally, you would want to players like Sanju Samson in the T20s. Ignoring him for Shreyas Iyer is beyond cricketing rationale #DoddaMathu #CricketTwitter #WIvIND"
Ideally, you would want to players like Sanju Samson in the T20s. Ignoring him for Shreyas Iyer is beyond cricketing rationale #DoddaMathu #CricketTwitter #WIvIND

— ದೊಡ್ಡ ಗಣೇಶ್ | Dodda Ganesh (@doddaganesha) July 14, 2022
Here is how Netizens reacted:
Story of giving opportunity for Sanju Samson in T20I:

1 T20 vs ZIM on 2015 July
1 T20 vs SL on 2020 Jan
2 T20 vs NZ on 2020 Feb
3 T20 vs AUS on 2020 Dec
3 T20 vs SL on 2021 July
2 T20 vs SL on 2022 Feb
1 T20 vs IRE on 2022 Jun

— Johns. (@CricCrazyJohns) July 14, 2022
Sanju Samson is the Dark Knight, eh? Silent entries and exits in squad lists these days.

— S. Sudarshanan (@Sudarshanan7) July 14, 2022
Sanju Samson again Dropped!!! why??? @BCCI

— Vikash Gaur (@thevikashgaur) July 14, 2022
Sanju Samson couldn't find a place in India's T20I squad once again.

His stats since 2019:
vs Pace: 31.13 Avg, 147.50 SR
vs Spin: 29.56 Avg, 143.77 SR

He is one of the best Indian T20 batters, still not a regular member of this squad. Really absurd!

— Prasenjit Dey (@CricPrasen) July 14, 2022
Sanju Samson deserve chance, feel sad for this talented player. Sanju dropped from T20I series against West Indies 🥹
#SanjuSamson pic.twitter.com/YjP6V2qT4i

— Ashutosh Srivastava (@kingashu1008) July 14, 2022
Even after scoring runs why bcci dropped Sanju Samson? Players like pant ,shreyas iyer , dk getting continues chances even after failing #shameonbcci #sanjusamson pic.twitter.com/K9LT1vqFmg

— Cricklover99🇮🇳 (@cricklover99) July 14, 2022
Indian wicketkeeper last 3 scores in t20is

*Rishabh Pant 1, 26, 1
*Dinesh Karthik 11,12,6
*Ishan Kishan 26,3,8
*Sanju Samson 39,18,77

And guess what ,they dropped the only performing guy pic.twitter.com/DZ7RQQdFtn

— Anurag (@RightGaps) July 14, 2022
When Sanju Samson gets dropped, whole Twitter cries💔 pic.twitter.com/KWtccT1mtp

— Saptarshi (@CockerelRoyals) July 14, 2022
Feel for Sanju Samson. Once again Sanju was dropped from the team India's squad although he was not done anything wrong. He performed as many opportunities as he got. He played one T20I vs Ireland, he scored 77(42). At least Sanju should have been in the squad.

— CricketMAN2 (@ImTanujSingh) July 14, 2022
484+runs in ipl 2021
Good domestic season in 2021(smat)
Score 56 runs wth 150+ strike rate in 2 innings vs sl
458 runs with the strike rate of 150 in ipl 2022
77(42) with the strike rate of 183 against Ireland
I don't know why bcci and selectors are ignoring sanju samson. pic.twitter.com/WL7qBywGQv

— Sanju samson the most elegant batsman of India (@Sanjusamsonfan) July 14, 2022
Sanju Samson is arguably the most talented player currently but BCCI isn't recognising his talent. #SanjuSamson pic.twitter.com/k3H5QgIEPJ

— J|B (@ItzButter63) July 14, 2022